Looking for detailed information on Sukanya Samriddhi Yojana 2023 then you must check out this latest story covered by CashFlowHunt.com Finance Team for Indian audiences who want to secure their girl child's future.
All you have to do is, invest INR 250 and will get INR 5 lakh at maturity for a girl child's future. Le's understand, how Sukanya Samriddhi Yojana works and how you can apply for the Sukanya Samridhi Scheme from the Government of India, and what are the Sukanya Samriddhi Yojana Interest rate.
Sukanya Samriddhi Yojana 2023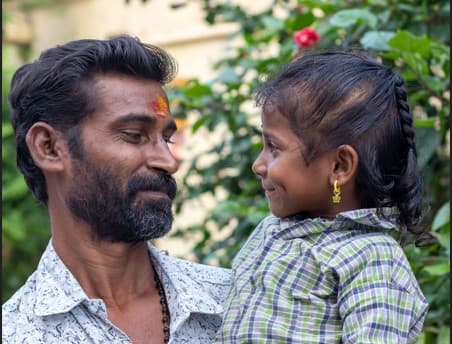 The Sukanya Samriddhi Yojana is one of the best savings plans created specifically for young girls. It was introduced by Prime Minister Narendra Modi in January 2015, as part of the government's "Beti Bachao, Beti Padhao" initiative.
The goal of this campaign is to encourage parents to set aside funds for their daughter's future education and marriage expenses. Parents can open a Sukanya Samriddhi account for their child before she turns 10, at any India Post Office or at designated branches of commercial banks.
Parents have the option to open a minimum of two accounts for each child. However, for twins or triplets, an exception is made in the scheme and additional accounts can be opened. If required, the account can be transferred to any location within India.
What are the benefits Sukanya Samriddhi Yojana?
In this current financial year 2023, the interest rate for the Sukanya Samriddhi Scheme is 7.6%. This savings plan offers the highest secured rate of interest among other similar investment options.
The minimum amount of investment for the Sukanya Samriddhi Scheme is INR 1000 and the maximum amount of investment that can be made per financial year is INR 1.5 lakh only.
The Investments made through the Sukanya Samriddhi Yojana Scheme (SSY) are tax-deductible as per Section 80C of the Income Tax Act of 1961. In the clause, it's mentioned that, When the account holder turns 18, they are allowed to withdraw up to 50% of the balance amount in the account for further education.
What are the Rules and Regulations for Deposit in Sukanya Samriddhi Yojana [SSY]?
The deposit for the Sukanya Samriddhi Account can be made either in one lump sum or on a monthly basis. In case of Failure to maintain the minimum deposit will result in a penalty of INR 50 and the account will be considered defaulted.
If the account defaults before 15 years have passed since it was opened, it can be reactivated by making a minimum payment of INR 250 and an additional INR 50 for every year it was in default.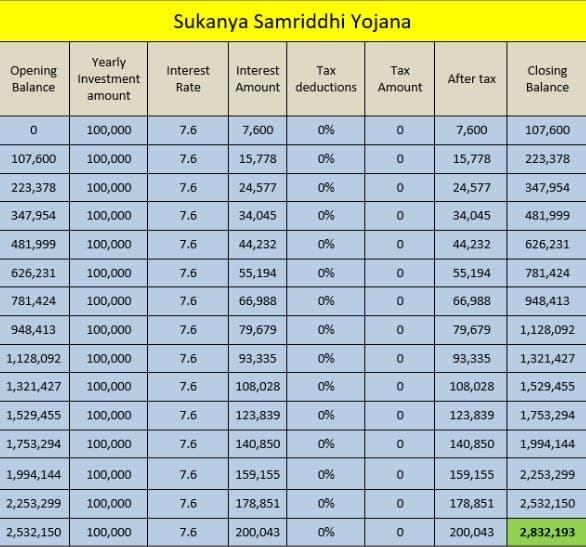 If you open an account with an initial deposit of 250 rupees and then add 750 rupees for the first month, followed by a monthly deposit of 1,000 rupees, your total yearly deposit will be 12,000 rupees.
Over the course of 21 years, starting from the birth of your daughter, you will have invested a total of 1,80,000 rupees and will have earned an interest of 3,47,445 rupees. This means that the maturity value of the account will be 5,27,445 rupees after 21 years.
Sukanya Samriddhi Account Scheme

Interest Rate
| | |
| --- | --- |
| PERIOD | RATE OF INTEREST (%) |
| 03.12.2014 TO 31.03.2015 | 9.1 |
| 01.04.2015 TO 31.03.2016 | 9.2 |
| 01.04.2016 TO 30.09.2016 | 8.6 |
| 01.10.2016 TO 31.03.2017 | 8.5 |
| 01.04.2017 TO 30.06.2017 | 8.4 |
| 01.07.2017 TO 31.12.2017 | 8.3 |
| 01.01.2018 TO 30.09.2018 | 8.1 |
| 01.10.2018 TO 30.06.2019 | 8.5 |
| 01.07.2019 TO 31.03.2020 | 8.4 |
| 01.04.2020 TO 31.03.2022 | 7.6 |
What are the Documents Required for the Sukanya Samriddhi Account?
If you want to open Sukanya Samriddhi Yojana account the list following documents is required.
Govt. Approved Birth Certificate of your daughter
Latest Address Proof
Identity Proof
Recent Photograph
Is it a Good Idea to Invest in Sukanya Samriddhi Yojana for Daughters?
Yes, definitely it's good to invest in Sukanya Samriddhi Account Scheme because this scheme is guaranteed and backed by the government of India.
You can invest some part of the money to secure your daughter's future. I must say this could be one of the best 18th birthdays presents for your daughter.
Supporting Links for SSY Scheme Seekers: