Secure Online Banking Tips – Those days were gone when people like to visit the bank for every time of banking work like transactions. But, now as the world is becoming digital and online banking takes place, it will become really easy for the people to do banking and all their bank-related work by sitting at your home and they don't need to visit the bank. 
Secure Online Banking Tips for Transactions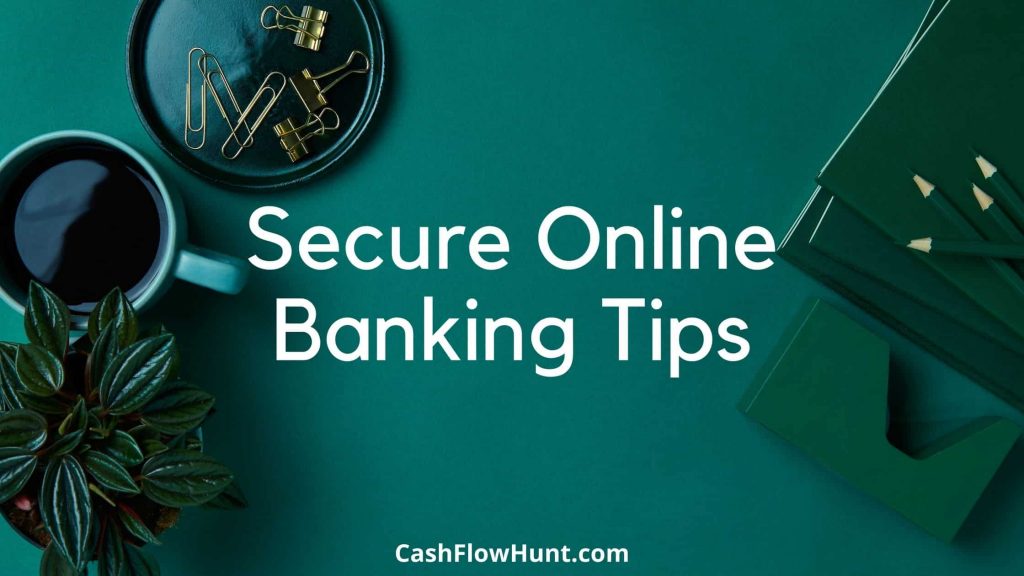 In the present scenario, banking or doing online transactions is risky sometimes because there are lots of ha**ers who will steal all your banking data and then, they will blank your bank account. It is really not good but there are lots of people who face this type of problem. On a daily basis, lots of new cases take place who became a victim of this problem. We know that people can't leave without online transactions and internet banking.
How to Secure Your Online Banking Transactions?
So, if you are the one, who can't live without internet banking then, you don't need to worry about it because here we are sharing a complete list by which you can save your bank account and money from ha*kers or from the attackers as well. To know more, read this complete article. 
Always Use Strong Password
At the time of internet banking, you are required to use a strong password in the process to keep your account safe from attackers. It is one of the basic things which generally people use to secure their internet banking. But, there are lots of people who use their name, surname, date of birth, and also their phone number as their password which is completely insecure and people can easily predict your internet banking password. 
So, in the process of making it strong, you must include the upper case and also the lower case in the password. Apart from this, you also need to use the numerals and the characters as well in your password. Make sure that the password must be different for all the accounts. 
Enable Two-Factor Authentication
Now, one of the other methods which help you to keep your account safe from ha**ers is Two-Factor Authentication. It will help you to increase the security of your account. Also, it will enable the account not to get accessed only by the password and when you try to make a login by using your password then you also need to enter the OTP as well which you will receive every time on your registered mobile number every time when you try to make a login. Without entering that OTP, you are not able to access your account online and can't access your internet banking. 
At present, mostly all the banks provide SMS alert service. This service helps the users to know about each and every transaction related to their bank account. Also, lots of banks provide this service free of cost but some banks charge a minor fee for this service. Without any hesitation, simply start using these service terms to secure your bank account from fraudsters and ha**ers. 
Beware of Fake Calls, SMS, and Calls
As money transfer is becoming easy because of internet banking, scammers are also taking place more and more. Scammers do lots of scam calls to the people where they ask their bank details and also the OTPs as well. Make sure to ignore all these types of calls every time when you get these types of calls because your bank didn't ask you about your bank details, password, SMS, and emails on call. So, in terms to secure your account, never share your personal banking details with anyone. 
Make sure that if you are willing to access your internet banking and don't have your personal devices to do so then please don't use someone's mobile or public PC to login into your internet banking. By doing this, they may save your login details and it may be the reason behind your password leak and it will create a big issue for you. Also, if you didn't see another option then you need to ensure that you make a login into your account online by using the incognito windows. 
On the banking apps on your device, you need to make sure to put an app lock on them. Also, set a password on your device as well so that no one can use your device or banking apps without your permission. Don't use the baking apps on the rooted devices because if you do so then it will become easy for ha*kers to ha*k your device. 
Never Visit Malicious Hyperlinks
If you are sitting at your home and receive any type of SMS which contains links, email or any of the social media or any address which seems known to know where they ask you to enter your personal details then make sure to never click on these types of links. If you click on these links then they may steal all your personal details like your account details. Make sure to never make a login into these types of websites in terms to secure your bank account. 
Check Transaction History
Make sure to check your bank transaction on a regular basis and also keep your bank passbook up to date. Nowadays, almost every bank provides the bank statement service on the internet banking and also you will get to know all the transactions history by using the internet banking service. Make sure to check the bank statements on the regular basis. 
If you are not at home and want to access your internet banking then make sure not to use the public wifi in terms of access to your bank account by making a login. By doing this, it will become really easy for ha*kers to steal all your banking data on the same network. If you urgently need to access internet banking on public Wi-Fi then make sure to use the VPN service first in the process for the connection encryption. But make sure that if the network is infected then the VPN service is also not helpful for you. 
If you love to do online shopping then make sure to shop only from the trusted sites. Also, while shopping makes sure not to save your account details on these sites. Also, set the wrong answer to the security questions so that ha**ers didn't judge them easily. Also, after shopping, make sure to remove your debit card or credit card details from the shopping sites. More Tips for Online Transactions.
Also, make sure to use the Antivirus software in your devices and make sure that they are safe and trusted. Also, update your antivirus and firewall on the regular basis. By using antivirus software, you have to scan your mobile and computer for viruses. Apart from that, you must have to use ad-blocking software and also spyware detecting software in terms to secure your privacy. 
Do Online Transactions via Trusted Sites
If you want to use the online transaction service in the process to make any type of payment online then make sure to use the trusted sites only. There are lots of third-party payment apps which were provided by the banks to attempt online transactions such as PayPal, GPay, PayTM, and also some of the others apps as well. Also, make sure to do the transactions where you will see that they are started with the "https://". 
Install Verified Applications Only
Now, if you really want to do Secure Online Banking Tips and transactions then make sure to install the apps which were verified from the sources, and if you didn't do it then they may steal all your data in the background process. Also, at the time of installation, make sure not to allow them and never give permission to them because it may harm and lose your data and files as well. There are lots of ha**ers available who use these apps to steal your data. 
Check Whether Your Connection is Encrypted or Not
One of the simple security which was provided by your bank is encrypting their websites. Also, in the process of ensuring the encryption, you are required to check the green padlock which shows that the site which you are accessing for payment is encrypted and also there you can easily fill in all your login details without any hesitation. 
Final Words:
We know that internet banking makes life easier for everyone in terms of doing cashless transactions during this epidemic. We people realize that internet banking is one of the best methods to do transactions without any human touch and mobilization. But, ha**ers are taking benefits of this because they use internet banking to steal your money and data.
So, if you want to be safe then make sure to follow the above-given Secure Online Banking Tips in a careful manner for the online transaction. These small steps are helpful for you to save you from a big loss. 
If you like this article and find this article helpful then make sure to share this article with other people like your friends and family and help them to keep safe from ha**ers. Also, if you have any issues or query then simply let us know by dropping a comment below.