HDFC Savings Account Type: HDFC is one of India's largest banks and it is also one of the largest private banks in terms of its assets. In the year 2017, the RBI (Reserve Bank of India) has announced that HDFC is one of the 3 Domestic Systemically Important Banks and the rest of them are the State Bank of India and the ICICI Bank. 
If you open a savings account with HDFC bank it will make proper sense. When you create an account with SBI or with ICICI bank it also makes proper sense. In this article, we are going to talk about the HDFC bank savings account options, and also with this article, you will get to know the process of how to open an account and also much more. 
HDFC Savings Account Types, Features & Privileges, Benefits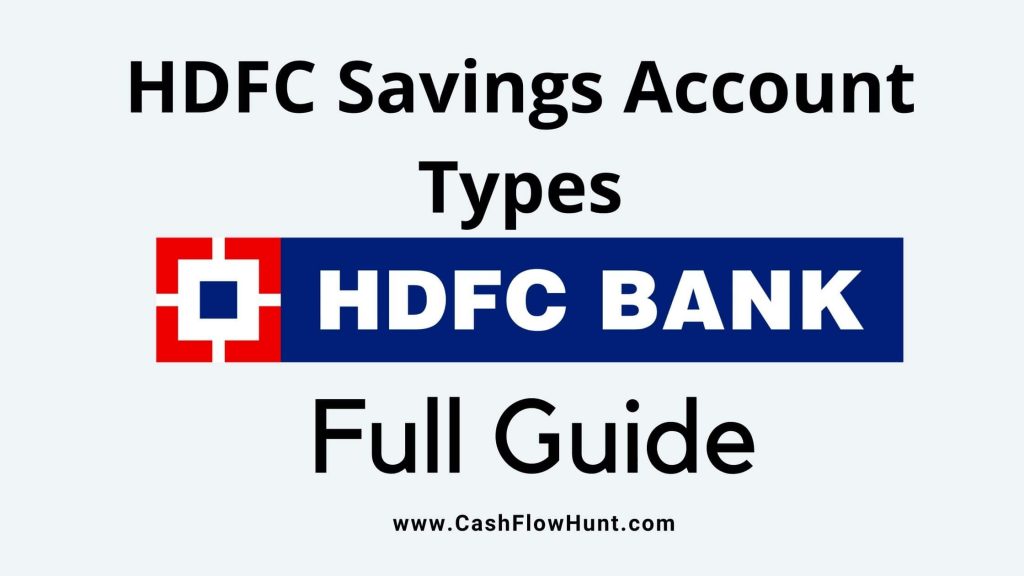 Before beginning this article, you need to know that any bank which is operating in India by default provides several types of account services on the basis or purpose like women's account, farmers account, Govt. Schemes account and much more. 
But, here we are only going to discuss the primary savings account types for which we register mainly. These accounts are generally available for all the banking privileges which were provided by the HDFC Bank. 
Types of HDFC Savings Account
Now, here in this section, we are going to tell you about all the types of HDFC Savings Accounts. One of the best things which I like about the HDFC bank is that they create the Towers of Savings account which is suitable for every person. It doesn't matter that you are a student and have a low balance, or working with any MNC and having lakhs in your account. This bank has a proper tier that is suitable for everyone. 
Below we are going to tell you about some of the major types of savings accounts that were offered by the HDFC bank. 
HDFC InstaAccount Online Savings Account
HDFC SavingsMax Account
HDFC Classic Savings Account
HDFC Preferred Savings Account
HDFC Imperia Savings Account
Now, we will tell you about all types of bank accounts in detail. 
HDFC InstaAccount: Online Savings Account
HDFC InstaAccount is one of the accounts which allow users to open their savings account online whenever they want in an instant manner and by just sitting at their home. So, simply check out the below-given details which help you to know about this account in a better and proper manner.  
For this, you need to complete your KYC process by visiting the bank physically at any bank and converting it to the Regular Savings Account. 

It doesn't provide joint account facilities. 

You cannot exceed your bank balance by more than 1lakh at a time.

You didn't get a debit card, passbook, checkbook. 

To withdraw cash from an ATM, you need to select the cardless cash withdrawal option and use your phone for verification purposes. 

Apart from money transfers, you can't be able to do any other transaction as you don't have an ATM card. 
---
HDFC Regular Savings Account
This is one of the regular HDFC savings accounts and most people are comfortable with this account. If you visit any of the HDFC branches for account opening then this is one of the basic accounts which they offer to you. 
You will get lots of discounts which are offered by the HDFC Smartbuy facility and also by the HDFC Payzapp application. 

You need to pay Rs. 500 for the Millennia Debit Card per year. 

If you want to waive off all the charges then you are required to opt for the higher tier account such as Savings Max or Classic Account. 
---
Now, if we talk about the HDFC Savings Max Account then it has lots of attractive features as compared to the regular HDFC savings account. It provides a lifetime free debit card along with the unlimited ATM withdrawal facility to any of the ATMs. Also, it provides a higher shopping and daily transaction limit as well. 
You will get HDFC Easyshop Platinum Debit Card by which you will get unlimited cashback as compared to the regular card.

Also, this is one of the lifetime free debit cards which provides you an unlimited ATM withdrawal facility from any bank ATM. 

You will get a 1 lakh per day withdrawal limit and also a 5 lakh per day shopping limit with this account. 

Free Passbook, Free Demand Drafts, and also Free Email Statements, SMS Alerts at 15rs quarterly are provided. 

You will get free insurance cover and also the accidental death cover and also some of the other product benefits as well. 
---
HDFC Classic Savings Account
Now, here we come up with an HDFC Classic Savings Account which comes under the "High NetWorthBanking" which means that you can only open this account if you are having a huge number of investments with the HDFC Bank. Also, you will get some of the other benefits as well and it is one of the lowest tiers of the HDFC High Networth Banking. 
The feature of this account is mostly similar to the Max account and it is free for a lifetime and also it provides unlimited ATM transactions from any of the bank ATMs. 

Also, you will get a relationship manager who is dedicated to your account and helps you in personal banking. You can simply connect with your RM by just sitting at your home to get help. 

In simple words, all your banking facilities are free of costs like a checkbook, passbook, DD, and much more.

If you fail to maintain your minimum balance then you don't need to pay any extra fee. 

Also, you can easily divide and share your HDFC classic account benefits with your family member directly. This means that every family member will be a classic account holder. 

As per our suggestion, it is one of the best services which you can avail if you have enough money. 
---
HDFC Preferred Savings Account
HDFC Preferred Savings Account is one of the mid-tier and also one of the high-net-worth accounts which was provided by the HDFC bank. 
With this account, you will get the 50% off on the processing fee of the load, and also you will get a 50% and 40% discount on all the multicurrency cards and also, you will get the 8 paise better Forex rate on some of the other currencies. 

Also, you will get priority as a customer by the HDFC bank. 

In some places, HDFC classic costumes get similar facilities like other HDFC preferred and also more than the Imperia account. 

With this account, you can be able to share its benefits with up to 8 family members in a direct manner. Also, they don't need to maintain any type of average balance or minimum balance. 
---
HDFC Imperia Savings Account
Now, as we came up with the last account which is the HDFC Imperia Savings account which was provided by the HDFC bank. This bank account is available for those people who are absolutely rich and living a luxury life. 
With this account, you will get a free locker. 

Also, you will get a 50% discount on all the multicurrency cards and also the 10 paise forex rate on some of the currencies as well. 

As with other accounts, you can also be able to extend the benefits of your family members. 

You will be treated as a priority customer by the HDFC and you will get instant customer support and phone banking service as per your requirements.
---
HDFC Bank Helpline/Customer Support
If you are facing any issue related to the services offered by the HDFC bank then you can directly connect with the customer support by using the below-given information. 
HDFC Bank Customer Care Numbers for PhoneBanking (Varies across cities):

Click here

.

HDFC Query/Feedback Complaint Online Form:

Click here

.

HDFC Contact Us Page:

Click here

.

HDFC Common FAQ:

Click here

.

HDFC Branch & ATM Locator:

Click here

.

HDFC Head Branch Mail Address: HDFC Bank Ltd., New Building, "A" Wing, 2nd Floor,




26-A Narayan Property, Chandivali Farm Road, Off Saki Vihar Road, Chandivali, Andheri (East), Mumbai – 400 072.

General Support: [email protected]
Loans Support: [email protected]
Credit Cards Support: [email protected]
Credit Cards Priority Redressal: [email protected]

HDFC DND Facility Registration (Warning: You might not get alerts regarding the latest offers on your Account)
More Banking Guides:
Conclusion:
Above are the helpline numbers of HDFC Bank credit card support by which you can easily be able to connect with them directly by simply skipping all their IVR options to get any help related to the HDFC Bank Saving Account Type. Also, if this article is helpful for you then share it as much as you can. Also, if you have any query then don't hesitate to connect with us by dropping a comment below.