Currently, Elon Musk has a 9.1% stake in Twitter and he is the social media company's second biggest shareholder. Elon Musk swipe up at the board of Twitter a day after adopting a poison pill by the company to protect itself from a takeover bid. The Board Salary will be $0 if my bid succeeds which will be $3M/Year saved right there tweeted by Musk in response to the user's post who criticize the board.
"Board Salary will be $0 if my bid succeeds": Elon Musk Targets Twitter Board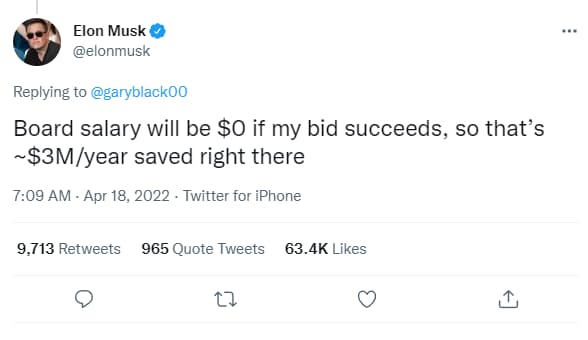 Currently, Musk has a 9.1 percent stake in Twitter and he is one of the second biggest social media company shareholders. Previously, the Tesla Chief had offered to buy the company for $43 billion. 
On Thursday, Elon Musk asked his 80 million followers on one of the microblogging platforms if "taking twitter private at $54.20 should be up to shareholders, not the board". Later on, the chief executive of Tesla also tweeted "Love Me Tender" which is one of the Elvis Presley songs, and after that Twitter opted for a plan to sell the shares at a discounted price to simply prevent any the attempts by the shareholders to amass a stake of more than 15%. 
Board salary will be $0 if my bid succeeds, so that's ~$3M/year saved right there

— Elon Musk (@elonmusk) April 18, 2022
Musk has also tweeted lots of other product ideas since buying the stake in Twitter to eliminate ads to an edit button. Also, he asked his followers if the company's headquarters should get converted into a homeless shelter or not.